Expertise in web technologies for business applications

Connecting you with your customers, vendors and remote locations

Located in Silicon Valley since 1996

E-commerce solutions for small & mid-size businesses

On-site support and training

Local references from satisfied clients
Featured Services
These are a few of the variety of services that PointsConnected can provide your organization.
Quality Standards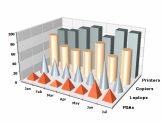 We believe that quality is defined by the relationship between goals, execution, and the measurement of requirements with delivered results. Quality achievement is not a just a 'moment-in-time', but a systematic approach. The evaluation of the solutions we develop starts from the initial stages of the project. This helps us to deliver custom web-design, databases or specific functionality on time and on budget.
Quality assurance is a crucial part of any successful project implementation. QA is complex process that requires professionals. Outsourcing a web-application project is sometimes the best option. Our years of experience and talented professionals are well-suited as your on-call IT department. It can save money, time and limited organization resources.
Every website developed by PointsConnected is subject to strict quality guidelines that must be satisfied before any "handover" to the client. This ensures the finished site meets all the required accessibility, usability, design, and technical "best practice" standards that we strive for. Our quality checklist covers all aspects of accessibility, usability, design, and techical best practice. Let PointsConnected develop your website, and we won't just preach quality, we'll prove it!

E-Commerce Solutions

We will build your online store with shopping cart software that's full of easy-to-use tools - no programming skills required.


Web Application Development

As experts in complex corporate web development, we build robust, flexible, scalable and effective web applications.


CRM

We can customize CRM solutions or recommend off-the-shelf solutions based upon your specific business needs. Our recommendations vary with project size and scope, and are driven by customer interaction and data gathering across the entire organization. Projects can be narrowly focused on a team of salespeople or project managers.